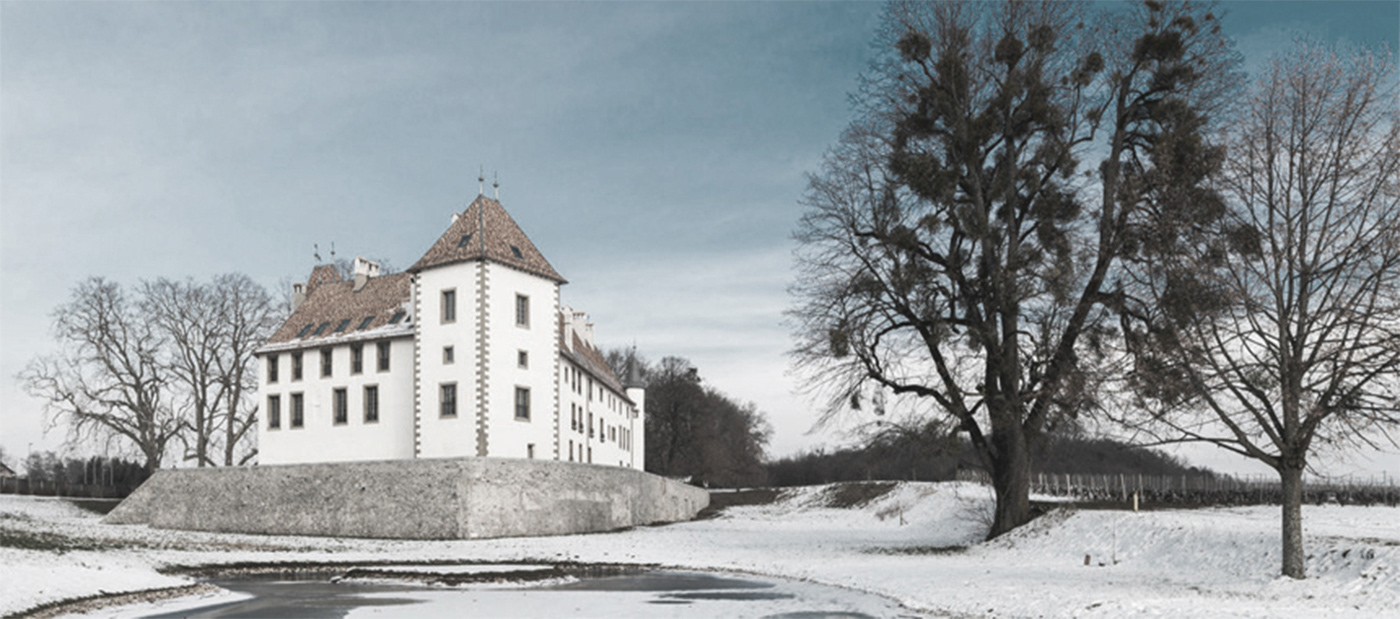 Allemand Castle, historical monument, is a medieval castle situated on the Vaud shores of  Lake Léman. It was built in 1291. This renovation project, combining classic and contemporary design, was designed for a family suite and three double bedrooms, all located in the main building of the castle.  

Le château d'Allaman, classé monument historique, est un château fort médiéval situé sur les rives vaudoises du lac Léman. Il a été construit en 1291. Ce projet de rénovation, alliant un design classique et contemporain, a été conçu pour une suite familiale et trois chambres doubles, toutes situées dans l'édifice principal du château.
For the annex of the castle, three different areas were conducted: an exhibition gallery, for exposing visitors the history of the castle as in a museum, a meeting room and a smoking room, providing space for more informal exchange.  

Pour l'annexe du château, trois espaces distincts ont été réalisés: une gallérie d'exposition, permettant, comme dans un musée, d'exposer aux visiteurs l'histoire du château, une salle de réunion et un fumoir, offrant un espace d'échange plus informel.
To create some furniture and decorative objects, old furniture and objects belonging to the castle were sometimes reused in a roundabout way or reclaimed when they were kept in deposits following major renovation works later undertaken. For example, barrels of wine were transformed into table, bears adorning the smoking room were highlighted around the fireplace, old stone tile of the bathrooms were reused to create decorative elements on the walls of new bathrooms. All materials and objects intrinsic to the place bringing a richness and originality to the renovation of these spaces.  
Pour créer certains meubles et éléments de décoration, de vieux meubles et objets ont parfois été réutilisés de manière détournée ou remis en valeur alors qu'ils étaient gardés dans les dépôts suite aux importants travaux de rénovation entrepris ultérieurement. Par exemple, les tonneaux de vin ont été transformés en table, les ours qui ornent le fumoir ont été mis en valeur autour de la cheminée, d'anciens carrelages en pierre des salles d'eau ont été réutilisés pour créer des éléments de décoration sur les murs des nouvelles salles d'eau. Autant de matériaux et d'objets intrinsèques à ce lieu apportant une richesse et une originalité à la rénovation de ces différents espaces.