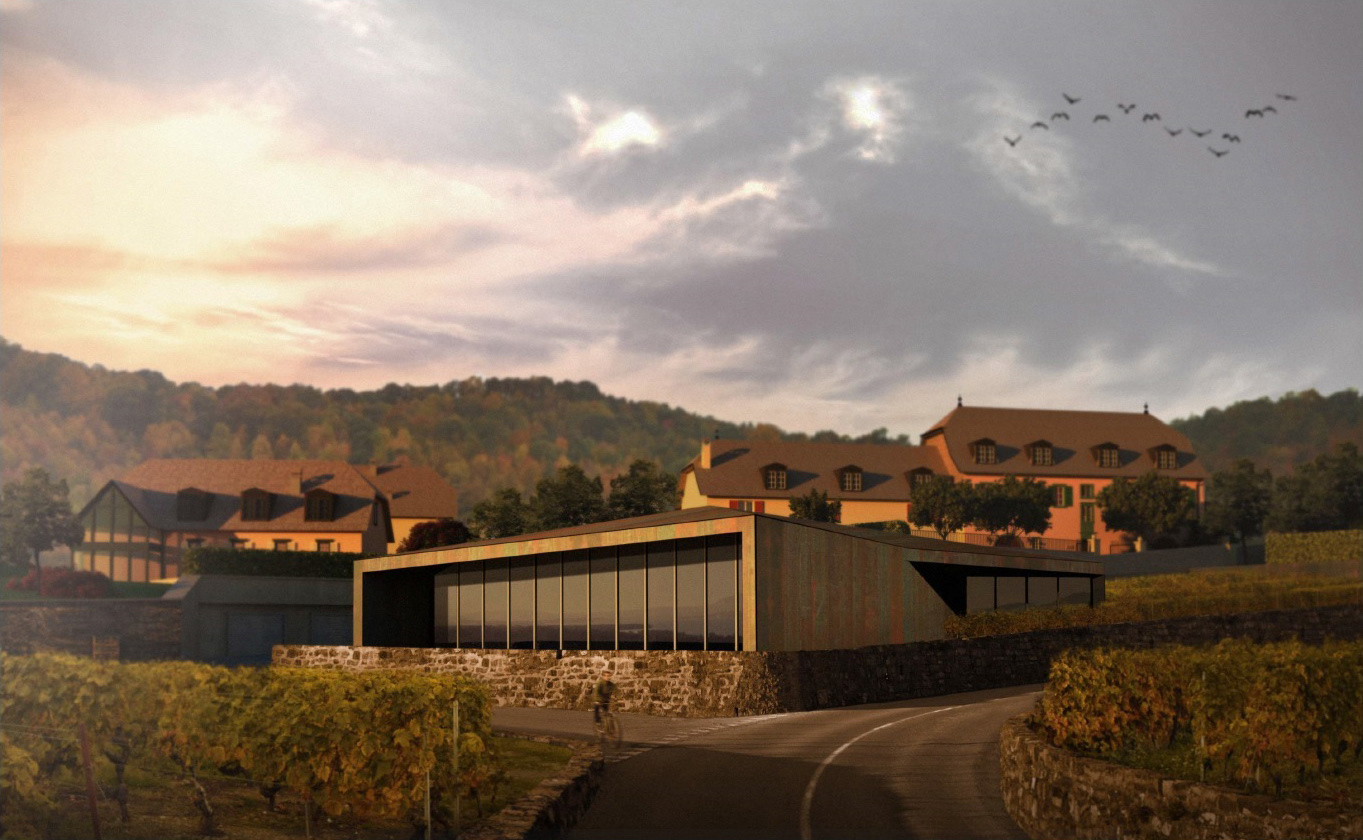 Implanted in the lower part of the parcel, volume sneaks into the vine to openonthelemanicregion. Itsorientation is the result of the visual framing desired from interior spaces. Also the geometry of the plot as well as the expansion of the upper hamlet influences its exposure. The building is built on a single level and integrates seamlessly with the character of the place which seems to be defined by a set of superimposed strata,the vineyards' typical character of the wine region. Uphill the Gimel road, sitting on a mineral base, the project becomes in turn the «socle/plinth » of the Town Hall (House of municipality): visual clearance on this ancient building is preserved and a gesture assured and frank, this new stratum get confused with the mineral and vegetable lines which follow in the landscape. On the top of the plot, from the different points of view, the building offers no front, merges in the topology of its context and becomes a visual trampoline which emerges from the vine.  
Implanté dans la partie inférieure de la parcelle, le volume se faufile dans la vigne pour s'ouvrir sur l'horizon lémanique. Son orientation résulte des cadrages visuels désirés depuis les espaces à vivre. La géométrie de la parcelle ainsi que l'expansion du hameau

supérieur

influe également sur son exposition. Le bâtiment s'articule sur un niveau unique et s'intègre parfaitement au caractère du lieu qui semble être défini par un jeu de strates superposées, caractère typique des coteaux de la région viticole. En montant la route de Gimel, assis sur un socle minéral, le projet devient à son tour << socle >> de la Maison de Commune : le dégagement visuel sur cette ancienne bâtisse est préservé et d'un geste assuré et franc, cette nouvelle strate vient se confondre avec les lignes minérales et végétales qui se succèdent dans le paysage. Depuis les différents points de vue du haut de la parcelle, le bâtiment n'offre aucun front, se confond dans la topologie de son contexte et devient un tremplin visuel qui émerge de la vigne.
The project aims to reflect an iconic architecture, while inserting contextually, sensitive and respectful of the terroir products of the region. The angles generated by the swaying shape, reduce the impact of the building on the landscape and offer a harmonious view. Space events that these formal withdrawals induce, found echo in a specific function: cover the North main entrance, and a terrace, in the South, which is in the extension of the tasting area. Formally purified, the monolithic volume contrast voluntarily with the buildings of yesterday to create a dialogue between two time, a mutual development.The roof expression is a contemporary translation of gable roof of the nearby buildings. It suggest to the collective unconscious a positive notion of refuge, shelter and so home.  

Le projet vise, tout en s'intégrant dans son contexte, à refléter une architecture emblématique, sensible et respectueuse des produits terroir de la région. Les angles générées par le déhanchement réduisent l'impact de la bâtisse sur le paysage et offrent une vue harmonieuse. Les événements spatiaux, que ces retraits formels induisent, trouvent écho dans une fonction déterminée : couvrir l'entrée principale au nord et une terrasse au sud dans le prolongement de l'espace de dégustation. Formellement épuré, le volume monolithique contraste volontairement avec les bâtisses d'hier afin de créer un dialogue entre deux temps, une mise en valeur mutuelle. L'expression de la toiture est une traduction contemporaine de celles à deux pans et en croupe des bâtisses voisines. Elles suggèrent à l'inconscient collectif une notion positive de refuge, d'abri et donc d'accueil.
The central core structures spatially the reception hall, the seminar room and the tasting room, leads the users from one space to another. Rounded corners amplify this accompaniment in the space movement. The central element can include the presentation of the local terroir products and tourism promotion elements. These three areas offer a relevant use modularity because they can be used independently or be connected during more important events.  

Le noyau central articule spatialement la salle de réception, la salle de séminaire ainsi que la salle de dégustation et accompagne les usagers d'un espace à l'autre. Les angles arrondis amplifient cet accompagnement dans le mouvement de transition spatiale. L'élément central peut intégrer la présentation des produits du terroir et des éléments de promotion touristique. Ces trois espaces offrent une modularité d'usage pertinente car ils peuvent être utilisés indépendamment les uns des autres oa être connectés lors de manifestations plus importantes.
If the crude steel agrees the monolithic aspect of the forme and its construction, it's the same for its evolution. Indeed, the traces of time are involved in the atmosphere of the place. Each of us is affected by the vibrations of the old stone walls which pass through the ages, and reveals on their surface the beauty of the time elapsed. To invite the time in the process of the « Maison des vins de la Côte » architectural design will amplify some vibrations from yesterday and give the piece of work a same language. Variations in shades of ochre colors will find resonance in the hues of the site and in the earth symbolism work. Time will offer the steel patina dress that suits it, just as it does with the wine.  
Si l'acier brut s'accorde à l'aspect monolithique de la forme et à sa construction, il en va de même pour son évolution. En effet, les traces du temps participent à l'atmosphère du lieu. Chacun de nous est touché par les vibrations des vieux murs en pierre qui traversent les époques, et révèlent à leur surface la beauté du temps qui s'écoule. Inviter le temps dans le processus de la conception architecturale de la Maison des vins de la Côte permettra d'amplifier certaines vibrations venues d'hier et d'offrir à l'ouvrage un même langage. Les variations des nuances de couleurs ocre trouveront résonance dans les teintes du site et dans la symbolique du travail de la terre. Le temps se chargera d'offrir à l'acier la robe patinée qui lui convient, tout comme il le fait avec le vin.