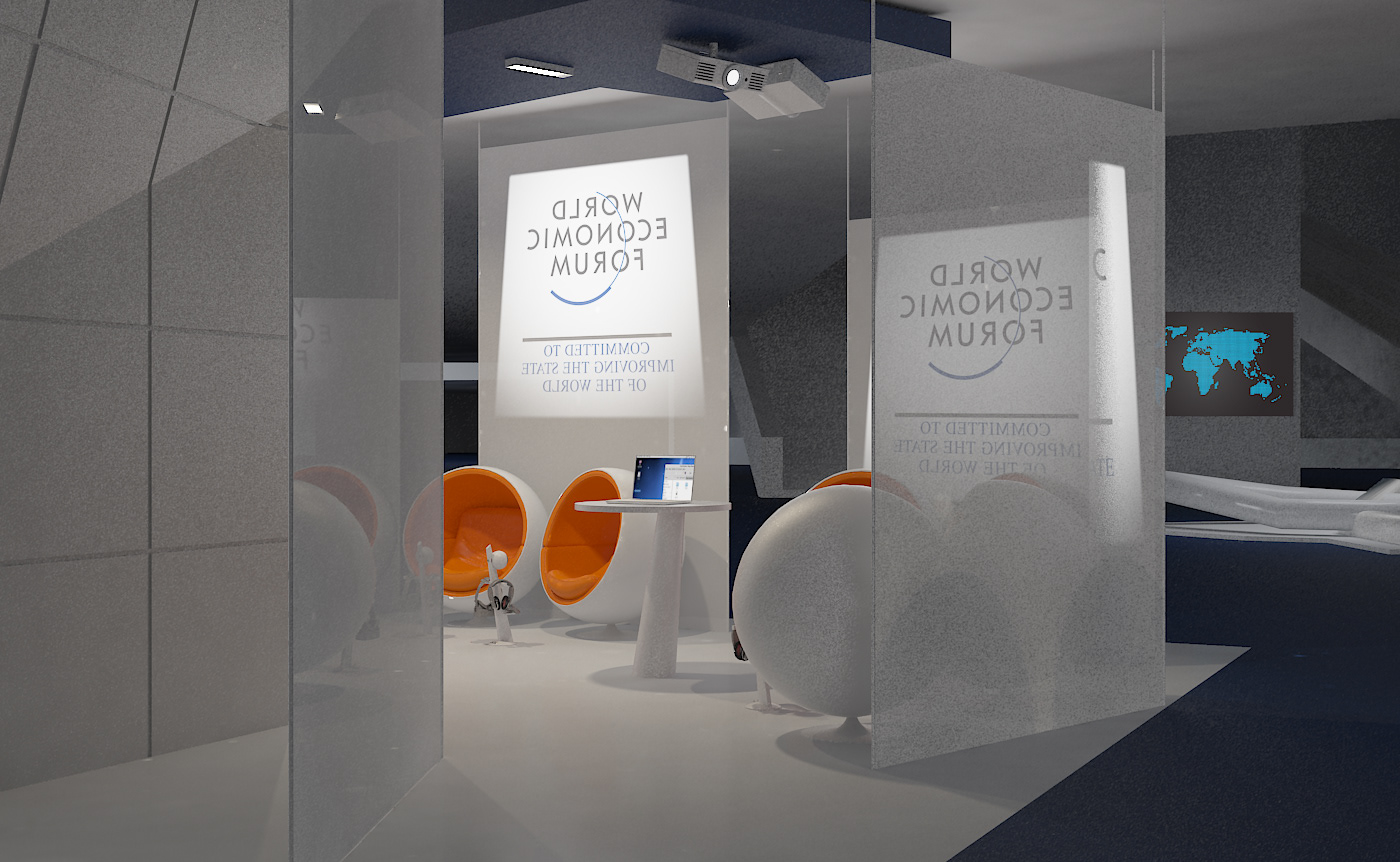 Oculus Rift Virtual Area is a project for the Congress Center of World Economic Forum. This place is separated to the main place with fice white panels, made of semi-transparent fabrics fixed on a simple metal structure, that are organized in different angles and with open space between them , what allows people coming from outside to understand what's happening inside. There is also the possibility to project images or lighting show on this panels in order to give a special atmosphere to this specific area. It can bring also a little more life in this Congress Center area and attract the attention of passers.  

Oculus Rift Virtual Area est un projet pour le Centre de Congrès du Forum Economique Mondial. Cet espace est séparé du hall principal par cinq panneaux blancs faits de tissus semi transparents et fixés à une structure métallique simple. Ils sont organisés selon des angles différents avec des espaces libres entre eux, ce qui permet aux gens venant de l'extérieur de comprendre ce qui se passe à l'intérieur. Sur ces panneaux, il y a aussi la possibilité de projeter des images ou des effets de lumières afin de donner une atmosphère particulière à cet espace spécifique. Cela peut également apporter un peu plus de vie dans cette zone du centre de congrès et d'attirer l'attention des passants. 
For the participants, the 'ball chair', by Eero Aarnio, is chosen to make them feel comfortable and secure. At first sight, this chair can look a little imposing but it takes only the space of a human body while respecting its intimate space and ergonomics. It brings the idea "space in a space" which gives more strength to the idea of privacy in this virtual reality experience. This design will also give a character to the place. The chairs could also keep the same colors of the main place, white and blue that represent corporate identity, but here warm colors are preferred to create a welcoming atmosphere. It simultaneously lets us to bring out this virtual reality area breaking the monotony in the entrance of the congress center.  

Le « ball chair » qui est une création d'Eero Aarnio a été choisi pour que les participants se sentent confortables et rassurés. À première vue, cette chaise peut paraître un peu imposante, mais elle n'occupe que l'espace d'un corps humain tout en respectant son espace intime et son ergonomie. Elle apporte la notion d' « espace dans un espace » qui donne plus de force à la notion d'intimité pour cette expérience de réalité virtuelle. Ce design donnera également un caractère à l'espace prévu. Les « ball chairs » pourraient également garder les mêmes couleurs du hall principal, le blanc et le bleu qui représentent l'identité corporative du World Economic Forum, mais ici les couleurs chaudes sont choisies pour créer une atmosphère accueillante. Cela permet en même temps de faire ressortir cet espace de réalité virtuelle en cassant la monotonie de l'entrée du Centre des Congrès. 
For each participant, is designed an entertainment stand that contains all the elements for a virtual reality system: Oculus Rift, headphone, webcam and joystick. For visual and ergonomic reasons all the cables are hidden under the floor. A 360-degrees swivel table is made for the speaker where he can organize event and control electronic system with a computer while keeping eye contact with every participant.
Pour chaque participant est conçu un stand de divertissement qui contient tous les éléments d'un système de réalité virtuelle : Oculus Rift, casque, webcam et manette de jeu. Pour des raisons visuelles et ergonomiques tous les câbles sont cachés sous le plancher. Une table pivotante à 360 degrés est faite pour le conférencier qui peut organiser des événements et avoir en même temps le contrôle du système électronique avec un ordinateur tout en gardant le contact visuel avec chaque participant.